Wholesale Channel Letters Signs – Fast Turn Times, Great Prices, On-Time Delivery and More!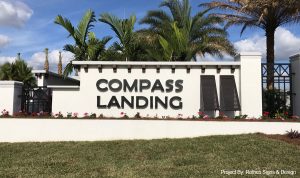 SRQ Sign Partners is Florida's fastest growing wholesale channel letter sign manufacturer.  SRQ specializes in illuminated LED channel letter fabrication and has the quickest turnaround times in the state of Florida.  Suncoast signs are built with quality components that are designed for ease-of-installation and optimal durability.  Our clientele is growing, as is our reputation of excellence in the industry.  We help our clients win more bids and earn repeat clients by delivering exception channel letters signs.
How Can SRQ Help Me Win Bids?
We have an extensive background in the retail sign world, we're sign guys!  Our bidding team is dedicated to returning your quotes within the same business day*.  Often times, we respond within minutes in an effort to let you close deal faster than your competitors.  The days of waiting and asking for rush bids are also gone with our expedited bidding service.
What's Different About A SRQ Sign?
Suncoast utilizes both handcrafted and automated sign manufacturing on the complexity of your project.  What sets our signs apart are the extra details that make a big impact in how you do business!
Raceways and Patterns
We offer the best, fastest raceway attachment system and mounting patterns in the industry.  Our extruded raceways utilize movable mounting tabs that allow the installer to easily mount the sign to any wall.  This mounting option has become the preferred method by our clients.  When it comes to mounting a pattern you will find our patterns setup with center points and mounting lines to help you installer quickly and accurately install even the largest patterns.   Using a SRQ sign will reduce your labor costs with faster installations and clients rave.
Quality Parts In Every Sign
We believe in providing high-quality products to our clients and it starts by using industry-leading components.  Many of Florida's channel letter wholesalers use the cheapest LED modules, vinyl and paints available.  We build our signs to perform and outlast the competition, especially in the harsh Florida conditions.
Brand Integrity
What's worse than receiving a sign that's the wrong color?  SRQ Sign Partners has invested heavily to make certain that specified colors are matched precisely both in print and paint.  We are a 3M MCS Certified sign manufacturer and utilize the latest systems available to make sure we hit specified colors.  Most suppliers have outdated print technology and formulas resulting in skewed colors.  It may pass for local one-offs, but our signs have passed the toughest of scrutiny without fail.
How Do I Get A Quote Today?
It's simple.  You can use our easy Quote Request Form, Email Us or Call (941) 866-7504. We're standing by ready to assist you with your project.  We're looking forward to showing you how SRQ delivers!